Dentist in Marblehead, MA
All our professionals at Marblehead Smile Design & Family Dental maintain the highest levels of accreditation and pursue ongoing education to stay abreast of the latest trends in dentistry.
Dr. Tim Curtin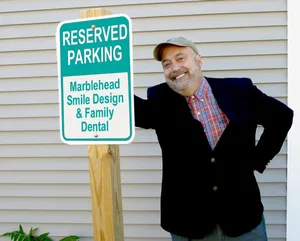 Dr. Curtin grew up locally in Lynn. He graduated from Lynn Classical in
1977 and received his B.A. in Biology from Clark University in 1981.

He graduated in 1985 from Tufts University School of Dental Medicine. He has taught at Tufts in the Department of Radiology and in the Post-Graduate Esthetics Program.

He has maintained his private practice on the North Shore for more than 30 years, In 2008 he founded and opened Marblehead Smile Design and Family Dental.

For more than 20 years, he has lived in Marblehead, where he is busy raising his two daughters. He enjoys working with kids, having coached Marblehead Youth Soccer and Little League Softball.
He was happy to present enrichment programs at the Marblehead Community Charter Public School, sharing his love for science and dentistry with the students, in workshops that helped them to understand dental health and how dental materials work. His favorite charity is My Brother's Table in Lynn. Every holiday season he organizes a musical fundraiser, playing Christmas favorites with friends on Atlantic Avenue. He is always grateful for the generosity his fellow Marbleheaders show to help others in need. His hobbies are hiking, camping, and jazz music, and he enjoys having coffee with friends.
Dr. Curtin has had the good fortune to study with some of the world's foremost dental teachers at The Dawson Center, The Pankey Institute, and The Center for Esthetic Excellence. In addition to creating great smiles, his training has allowed him to help many patients with TMJ problems and headaches. He and his team are dedicated to providing excellent dental care for the whole family. They love helping children to enjoy their dental visits as a positive and rewarding experience. He is most grateful to have helped many children to become enthusiastic dental patients. ( Grown-ups too!)