My Blog
Posts for: January, 2016
By Marblehead Smile Design & Family Dental
January 21, 2016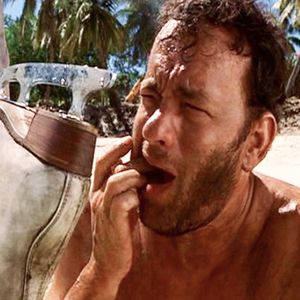 Did you see the move Cast Away starring Tom Hanks? If so, you probably remember the scene where Hanks, stranded on a remote island, knocks out his own abscessed tooth — with an ice skate, no less — to stop the pain. Recently, Dear Doctor TV interviewed Gary Archer, the dental technician who created that special effect and many others.
"They wanted to have an abscess above the tooth with all sorts of gunk and pus and stuff coming out of it," Archer explained. "I met with Tom and I took impressions [of his mouth] and we came up with this wonderful little piece. It just slipped over his own natural teeth." The actor could flick it out with his lower tooth when the time was right during the scene. It ended up looking so real that, as Archer said, "it was not for the easily squeamish!"
That's for sure. But neither is a real abscess, which is an infection that becomes sealed off beneath the gum line. An abscess may result from a trapped piece of food, uncontrolled periodontal (gum) disease, or even an infection deep inside a tooth that has spread to adjacent periodontal tissues. In any case, the condition can cause intense pain due to the pressure that builds up in the pus-filled sac. Prompt treatment is required to relieve the pain, keep the infection from spreading to other areas of the face (or even elsewhere in the body), and prevent tooth loss.
Treatment involves draining the abscess, which usually stops the pain immediately, and then controlling the infection and removing its cause. This may require antibiotics and any of several in-office dental procedures, including gum surgery, a root canal, or a tooth extraction. But if you do have a tooth that can't be saved, we promise we won't remove it with an ice skate!
The best way to prevent an abscess from forming in the first place is to practice conscientious oral hygiene. By brushing your teeth twice each day for two minutes, and flossing at least once a day, you will go a long way towards keeping harmful oral bacteria from thriving in your mouth.
If you have any questions about gum disease or abscesses, please contact us or schedule an appointment for a consultation. You can learn more by reading the Dear Doctor magazine articles "Periodontal (Gum) Abscesses" and "Confusing Tooth Pain."
By Marblehead Smile Design & Family Dental
January 06, 2016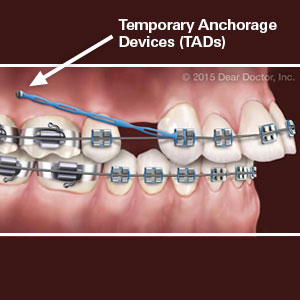 Braces are a common part of many teenagers' life experience — but not every bite problem is alike. Sometimes, there's a need for accurately moving only a few teeth while making sure others don't. This is where Temporary Anchorage Devices (TADs) can help streamline that effort and even reduce treatment time.
Orthodontics wouldn't work at all if we didn't already have a natural tooth movement mechanism in our mouths. That ability rests with the periodontal ligament, a tough, elastic tissue between the teeth and the bone that firmly attaches to both with tiny collagen fibers. Though quite secure in holding teeth in place, the ligament attachment also allows teeth to move in response to changes in the bone and jaw structure.
Braces are made of brackets cemented to tooth surfaces through which tiny wires pass. The wires are anchored, usually to other teeth or groups of teeth, and tightened to apply pressure against the other teeth. The ligament does the rest: as the teeth are "pressured" to move in a certain direction, new bone, ligament and an anchoring substance known as cementum forms behind it to secure the tooth in its new position.
The anchorage teeth are not intended to move. In some situations, though, it's difficult to keep them from not moving — much like trying to keep a boat anchor from not dragging through sand on the sea bottom. TADs help alleviate this problem: it's a mini-screw or mini-implant that's temporarily placed in the jawbone to which the tension wire can be secured. They're placed in the best positions for isolating the teeth that need to be moved without compromising the position of nearby teeth that don't.
With the site numbed with a local anesthetic, we install the TAD through the gum tissue into the bone with a special device; their screw-shaped design holds them securely in place. They're then removed when the orthodontic treatment is complete.
While a simple procedure, precise placement requires collaboration between the orthodontist and the oral surgeon or dentist who installs them. They also need special attention during daily hygiene to keep them clean. Still, with difficult bite situations they can help bring about the right outcome — a straight and beautiful smile.
If you would like more information on orthodontic treatment options, please contact us or schedule an appointment for a consultation. You can also learn more about this topic by reading the Dear Doctor magazine article "What are TADs?"